Microsoft executives previously outlined
four core principles
upon which Microsoft can build its business: the cloud, social, mobility, and Big Data. Ballmer went a step farther, describing four things Microsoft must do right if it wants to remain in business:
1.) Office 365 and Azure must succeed
: Specifically, they need to be a "touchdown," Ballmer said. Microsoft chief financial officer Amy Hood spent almost the bulk of her presentation, talking about how the new subscription services built into Office 365 compelled consumers and businesses to pay an annual fee, rather than buying Office products every five to seven years.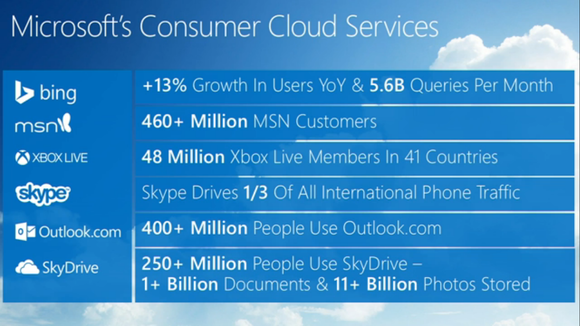 "It's quite clear to me by this time next year, we will overwhelmingly have the most popular paid service in the enterprise, bar none," Ballmer said.
2.) Windows PCs need to remain viable
: Ballmer's "productivity PC" mantra must be heard loud and clear. "We have to make absolutely clear to people what the value proposition is and, by the way, how they can get some of those same high-value services on non-Windows devices, iPads, iPhones, Android devices, et cetera," Ballmer said.
The underlying message is that Microsoft hopes to bundle its services with its own devices, as well as push those services onto as many platforms as possible.
3.) Windows Phone must climb out of the cellar
: "We have almost no share," Ballmer said. "I don't know whether to say that with enthusiasm or a kind of uncomfortable tension. But I'm an optimistic guy. Anything we have low market share sounds like upside opportunity to me."
The key here is
Microsoft's acquisition of Nokia
, and its focus on devices and services in general. Knowing how consumers use devices and the services within them helps Microsoft at all stages of the game.
4.) Selling cloud and hybrid services
: Consumers likely shouldn't care about whether or not Microsoft's sales staff rings up a sale at Ford or Unilever. But managing a company's data is like you turning over your data to SkyDrive or Office 365: after a while, you just budget in the expense of Microsoft managing your data for you.
Source :
pcworld