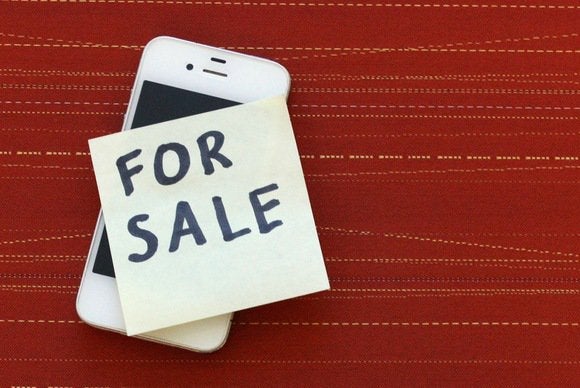 For many people, it's phone-buying season—in the past month or two, Apple, Motorola, Nokia, and Samsung have all released hot new phones. If your old phone is gathering dust in a drawer somewhere and you don't have a use for it aside from "paperweight," you might as well sell it and get something for it.
You have a few options for selling your phone: You can either sell it yourself through a site such as Craigslist or eBay, or you can use a buyback service like Gazelle or Glyde, and make your old phone someone else's problem. Here's what you need to know before you put your old phone on the market.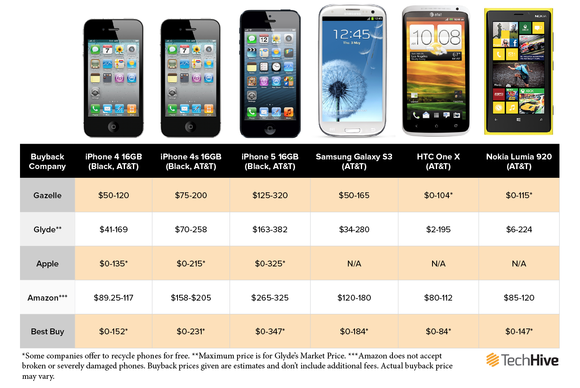 Amazon
Amazon takes old phones through its electronics trade-in program. To reach it, go to Amazon's site and open the Shop by Department menu in the upper-left corner. From there, go down to Electronics & Computers, and then select Trade In Electronics. You'll then be able to search for your phone and get an estimate of how much it is worth.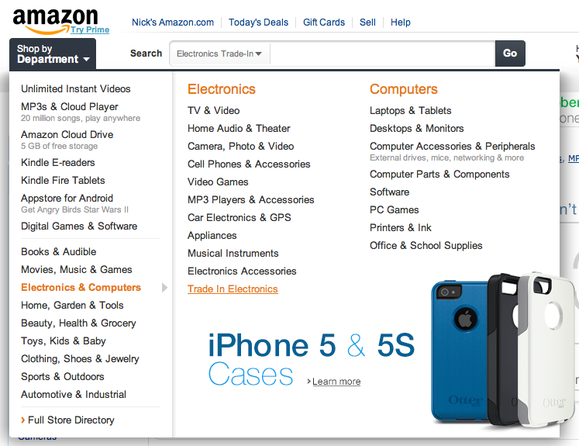 Amazon will not accept broken or severely damaged phones—your handset must be functional, and it must meet one of three conditions: Like New (phone is in perfect working order, has all accessories and packaging), Good (phone has some wear and has some light scratches on the body, and comes with its battery, charger, and USB cable), and Acceptable (the phone works but has suffered more significant abuse, and it may be missing accessories such as its charger or USB cable).
Amazon does not provide cash payment, but it does give Amazon Gift Card credit for your gear—not a bad way to go if you're a regular Amazon customer.

Apple
Apple will take back old iPhones in working condition in exchange for credit toward purchase of a new phone or other Apple gear on its online store. To start, visit Apple's online store, select Shop iPhone, and then select iPhone Recycling Program. You'll be asked a few questions about the condition of your iPhone, and Apple will give you an estimate of how much your phone is worth. If your handset is too damaged for Apple to offer you payment, the company will offer to recycle your phone for free.
Apple accepts only iPhones in its phone takeback program, so if you own a different model, you're out of luck.

Best Buy
Like Apple, Best Buy will accept your old phone in return for store credit, and if it can't offer you payment for a broken phone, it will recycle your phone for free. Best Buy also takes back a wide range of devices, including that old flip phone you have from 2007. Visit BestBuyTradeIn.com, and then scroll down to Find Your Trade-In Value and look for Mobile Phones. Click that item, and search for your phone and select it; Best Buy will give you an estimate of how much your phone is worth based on its condition.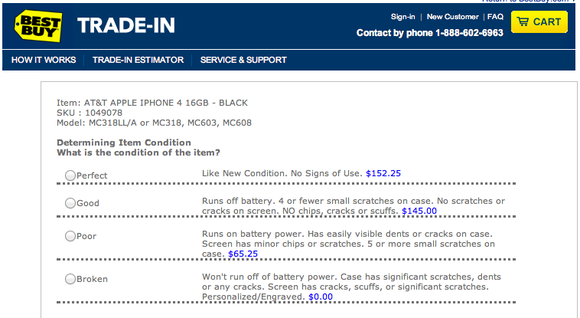 Best Buy's criteria for judging the condition of a phone are rather specific. Does it have four or fewer small scratches? It qualifies as a device in "Good" condition. Does it have five or more scratches? That's "Poor" condition. You may find in some cases that your phone falls in between two condition levels.

Gazelle
Gazelle is a service that's dedicated to buying used electronics. And unlike Amazon, Apple, and Best Buy, Gazelle will give you cash for your old phone, not just store credit. The site is straightforward to use: Visit Gazelle.com, select what you want to sell, provide some specifics on the model you have, and assess its condition, and Gazelle will offer you a buyback price for your phone.
In some cases Gazelle will not be able to offer you payment for your old electronics, and the company itself does not have an electronics recycling program, though it will refer you to resources where you can learn more about how to recycle your old phone.
As far as phones go, Gazelle accepts devices only from Apple, BlackBerry, HTC, LG, Mototola, Nokia, and Samsung; if you don't have a phone from one of these companies, you need to look elsewhere.

Glyde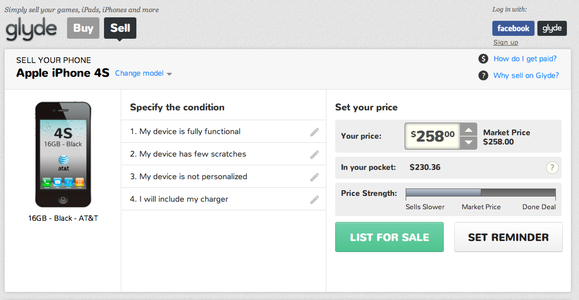 Glyde lets you buy and sell used electronics, and it's fairly easy to use. After you find your phone's maker and model, and answer a few questions about its condition, Glyde gives you an estimated price for your phone.
Unlike Gazelle, Glyde does not buy your used gear from you; instead, it provides a marketplace where it lists your phone for sale. You won't get cash up front, and Glyde will take a transaction fee and shipping fee out of your asking price. On the flip side, Glyde allows you to set your own price: Although it defaults to the market price—the standard going rate for your old phone—you can list it at a lower or higher price.

Other options
Aside from the services above, you also have a couple of old standbys at your disposal: eBay and Craigslist. eBay lets you set a Buy It Now price or a starting price for auction, and at Craigslist you get to set the price entirely yourself. If you choose to sell through either of these sites, you'll want to keep a few tips in mind.

Don't accept personal checks: A less-than-honest buyer could easily write a bad check, leaving you in the lurch should it bounce. Instead, either use a service like PayPal or request a cashier's check or money order. This way, you can guarantee that you'll get paid.

Don't make your buyer wait: Ship your phone as soon as you can after you receive payment, and provide your buyer with a tracking number if possible so that they can get a better idea of when to expect it.

Be honest: Disclose any damage to the phone, and mention if anything is missing. Being up-front now will prevent hassles later.

Take lots of good photos: You'll want to provide plenty of photos that show the condition of the phone. Make sure you have good lighting, and try to take the photos on a clean, uncluttered desktop.

Source : pcworld